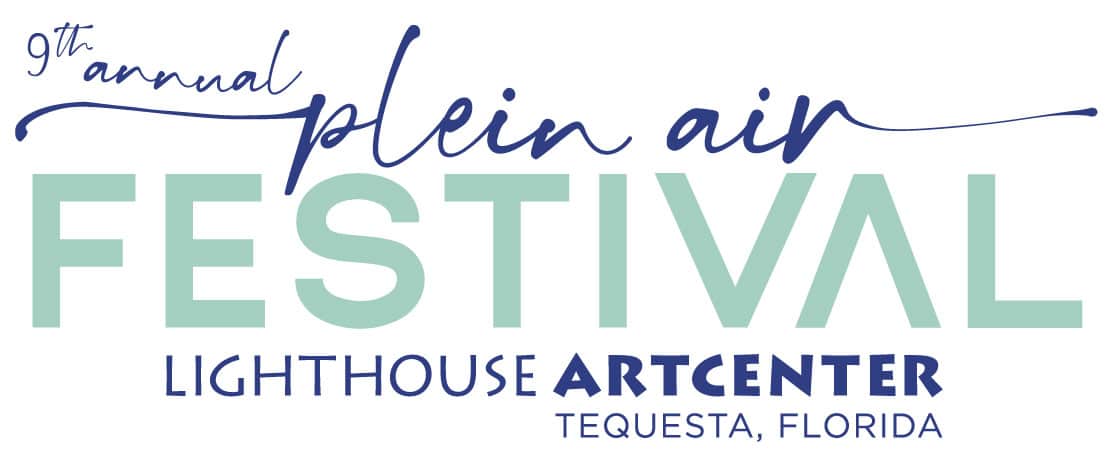 Make space on your calendars and walls for Lighthouse ArtCenter's 9th Annual Plein Air Festival!
This juried event brings 30 of the country's top plein air painters to Tequesta for a week of outdoor painting. These artists, painting outdoors, or "en plein air," will compete for over $20,000 in cash and prizes. The week kicks off with our Paint Out Competition at the beautiful Ann Norton Sculpture Gardens in West Palm Beach. Join us daily at the ArtCenter Gallery to view and purchase the freshly painted work of our talented artists. Check out the free plein air painting demonstrations at picturesque locations across the area. On Friday, add to your art collection at our fabulous Collectors' Party & Sale. Mix and mingle with the artists and fellow art enthusiasts while feasting on Lighthouse ArtCenter's signature hors d' oeuvres. All pieces are available to purchase, including competition pieces. Finish out the week on Saturday with our Small Works Sale and our Live Painting Event at the ArtCenter Gallery. Learn from the masters and enroll in one of our Plein Air Workshops offered before and after the festival.
March 27th- April 2nd, 2022
373 Tequesta Drive
Tequesta, FL 33469
A special thank you to our generous sponsors: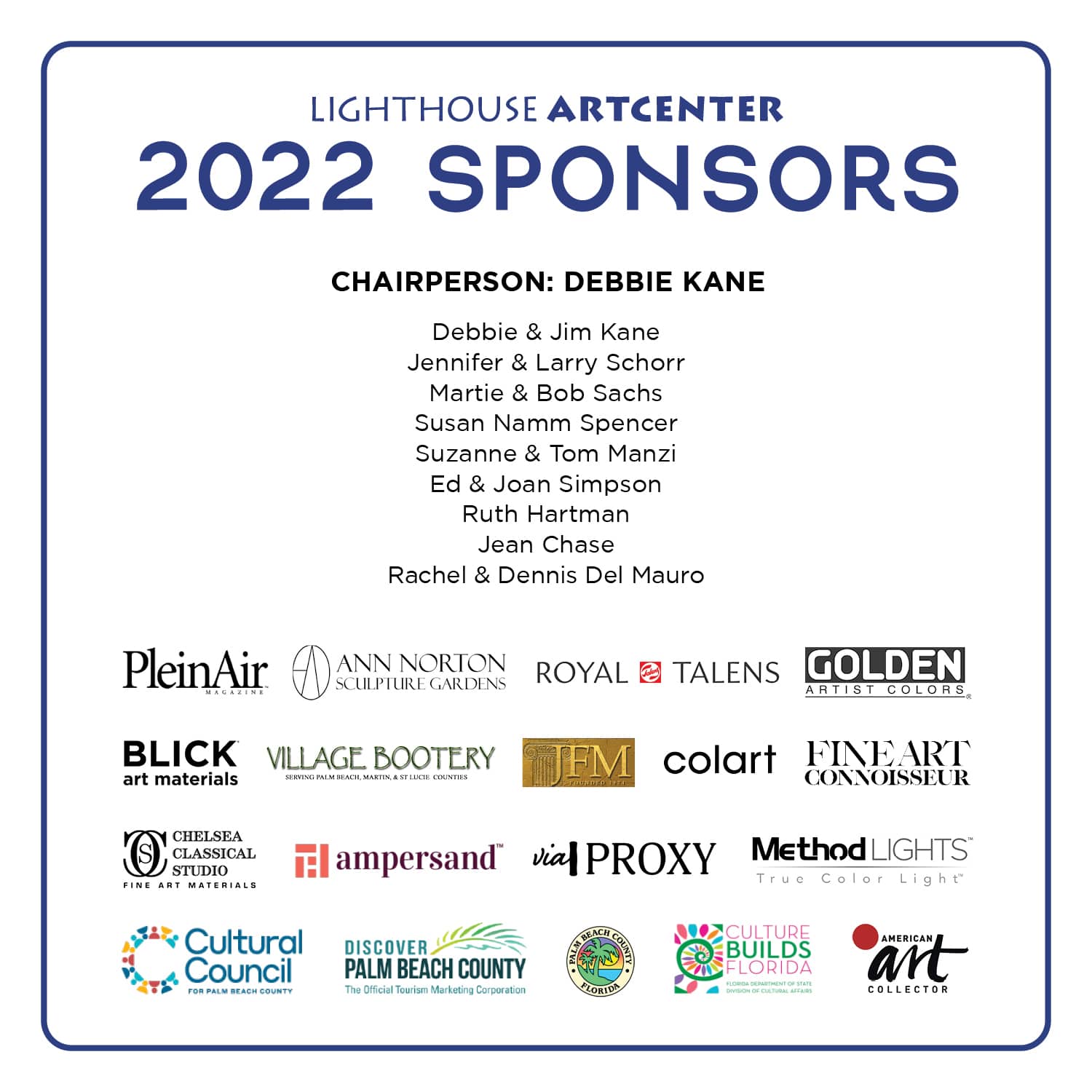 We are thrilled to announce our invited artists - get ready for fresh work from 30 of the top plein air artists in the country!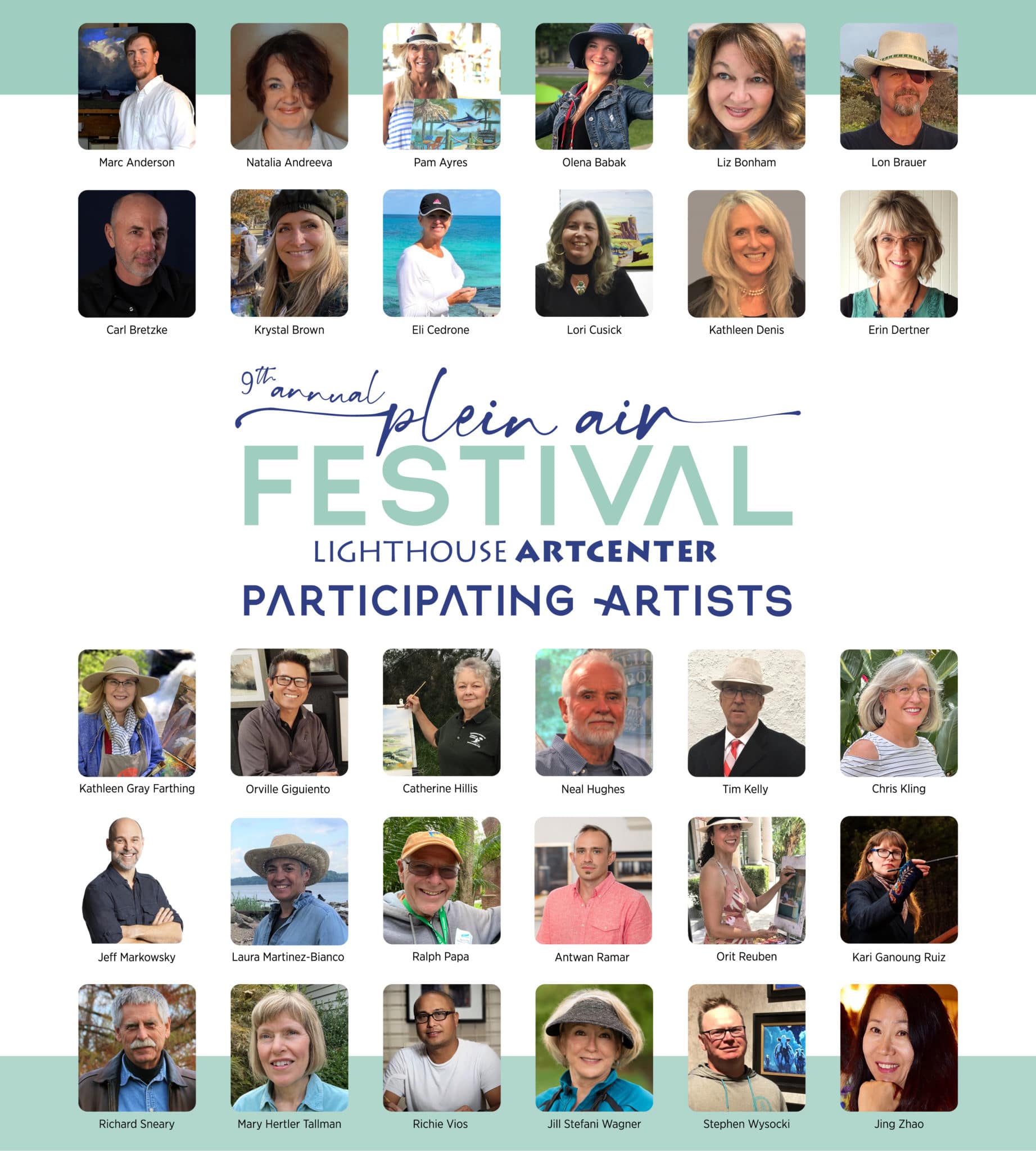 Several of the exceptional artists participating in our Plein Air Festival will also be offering in-person workshops! 
Don't miss the opportunity to learn from these masters - register today!
We are pleased to announce that Patrick Saunders will be our 9th Annual Plein Air Festival Judge. Patrick is a Signature Member of the Oil Painters of America and a member of the Portrait Society of America. He is a former Signature Member of the Laguna Plein Air Painters Association, the American Impressionist Society, and the Outdoor Painters Society.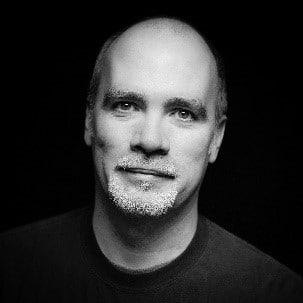 Award-winning artist Patrick Saunders travels the world creating fine art, teaching workshops, and judging painting competitions. After a decade at Hallmark Cards, Patrick accepted a faculty teaching position at his alma mater, the Kansas City Art Institute. This was followed by a career-leading team in New York, San Francisco, and globally, producing award-winning advertising at VMLY&R for Fortune 500 clients. Patrick began Plein Air painting in 2013 and has earned awards from every major Plein Air event in the country, as well as a gold medal from the Oil Painters of America, and honors from the Portrait Society of America, the Society of Illustrators, and Communication Arts. Patrick was first featured in Southwest Art Magazine in 2000, as one of their '21 under 31' artists to watch. He has twice been the cover artist for Southwest Art and has also been featured in American Art Collector, Western Art Collector, Plein Air Magazine, and many other publications
Sunday, March 27th, 9am - 1:30pm
Paint Out Competition:
Join us at the beautiful Ann Norton Sculpture Gardens in West Palm Beach to participate in or view this exciting plein air competition.
All artists are welcome to participate under one of two self-designated categories, Professional or Amateur Artist. Cash awards and prizes will be available to winners in both categories. Over $2,000 in cash and prizes will be awarded.
9:00 am – 10:00 am | Check in and stamping of panels will begin on site
10:00 am – 12:00 pm | PAINT! Listen for the air horn, which signals when to start and stop painting.
12:00 pm – 12:30pm | Frame and display work on easel
12:30 pm – 1:00 pm | Judging
1:00 pm | Awards announced and prizes distributed
1:00pm – 1:30 pm | Art is offered for sale to the public
All Artists must register by Thursday, March 24, 2022 to participate. Registration is $40 per artist.
Those wanting to attend the Paint Out as spectators (not competitors) do not need to register in advance. Simply pay the Garden's entrance fee upon arrival - $15 for adults, $10 for seniors, and $7 for children or students. Click here for Paint Out details and rules.
PAINT OUT REGISTRATION IS SOLD OUT