Mary "Happy" S. Auble
1930-2021
​
Mary "Happy" S. Auble, 90 was born on August 20, 1930 in Rochester, PA and passed away on April 1, 2020 in Jupiter, FL. Happy was an amazing, caring, and giving person who lived a very full life and enriched the lives of those around her. She attended Nutley High School and then continued her education at Allegheny College where she received her Bachelor's degree in English. After college, she traveled throughout Europe and then worked for a time for a publisher in New York City before moving to Cleveland, Ohio. There she met and married John "Jack" August Auble in 1959, and from their home in Gates Mills, Ohio, she devoted her life to her husband and children, and in time, to her grandchildren as volunteering, crossword puzzles, reading, playing cards, spending time with family, and traveling the world. She quite likely gave away more paintings and painted furniture than she sold, which was an indication of her giving spirit and her humbleness as an artist. Happy liked sunflowers and cows, which frequently adorned her clothing and were everywhere in her home. She was an enthusiastic participant in numerous civic organizations and clubs beginning when her children were little. These included the Community Club and the Garden Club in Gates Mills, and the Lighthouse Arts Center and Loxahatchee Guild in Jupiter, to name a few. She was also a supporter of programs including Toys for Tots and Wounded Warriors. She made friends all over the Jupiter area, but particularly in her neighborhood of Jonathan's Landing and in the Lighthouse Arts Center. Happy is survived by her children, David, John and James Auble; son-in-law, Jerry Alderman; daughter-in-law, Barbara Maille; grandchildren, Abby, Oliver and Emma Alderman, Ezra Maille, Ruby, Jennifer, Charlie, Jack, Ryan and Sam Auble; and nieces, Sue Burton Wojcik and Julia Bloom; in addition to numerous friends and extended family. She is predeceased by husband, Jack and daughter, Martha Auble Alderman. In lieu of flowers, donations are encouraged to the Lighthouse Arts Center in Jupiter, Florida.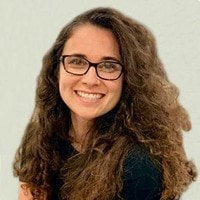 Maria Tritico
1988-2020
Maria Nicole Tritico, born November 17, 1988 and tragically taken from us December 7, 2020.
Maria was a bright shining light who saw opportunity instead of despair, ability instead of homelessness, and a pathway for every victim out of sex trafficking. Maria's star had but just begun to shine.
A 2013 graduate of Texas State University with two Bachelor Degrees in Photography and Metal Smithing, Maria went on to The Art Institute of Chicago earning a Master's Degree in Art Therapy in 2015. As a student, Maria studied in exchange programs where she spent time in Bali, France, Italy, and Hawaii.
It was in Hawaii where she met the love of her life Chad Steve. Three weeks after their brief but auspicious meeting, Maria returned to Texas. Three years later they reconnected and fell in love. By 2016, they committed to a life together and moved to Florida. Sharing both their love of art and of humanity, Maria and Chad both worked at the Lighthouse Art Center where Maria became the Director of Education and Chad is the Director of Ceramics.
Maria and Chad had planned a December 31, 2020 wedding (New Year's Eve being their special day) and they just closed on the purchase of their new home.
Maria was a rising artist. Her jewelry was getting noticed. Sending in three pieces to the first New York Jewelry week, hoping to get one accepted, all three of Maria's pieces were accepted and she was highlighted at the main show in New York City. Her work has been shown in galleries and at shows all over the US and Canada.
In her Art Therapy Practice, Maria focused on veterans suffering with PTSD, elderly patients with Dementia and Alzheimer's, and girls and women seeking to escape sex trafficking. Maria's mission was to help those who need help and sought to improve their lives. In 2015 Maria and some friends formed a non-profit and traveled to Haiti to help young girls escape the bonds of the sex trade and open their own businesses. Maria never saw a person or a situation that was a problem, it was always merely a situation in need of a solution, and Maria was always part of the solution.
Chad said that Maria was the smartest person he has ever met. She was always looking for ways to improve things. Her family and friends remember her humor, her kindness, her generosity, her optimism, and her humanity. Maria leaves a large legacy for one so young. As her final act of giving Maria donated her organs so that she can give the gift of life to many families for a lifetime.
Maria leaves her fiancé Chad Steve, her parents Christopher L. and Deborah Lambert Tritico, sister Melissa Tritico, brother Christopher L. Tritico II, grandparents Leonard and Jo Ann Tritico, and nine aunts and uncles, fifteen cousins, a multitude of extended family and friends all over the world. Preceded in death by her grandparents Stanley "Skip" Lambert and Dolores Lambert of Spring, TX.
Remembrances can be sent to The Maria Tritico Memorial Fund, 373 Tequesta Dr., Tequesta, FL 33469 (www.lighthousearts.org).
Frank William Harris, Jr.
1925-2020
Frank William Harris, Jr., age 95, of Jupiter, FL, passed away peacefully at home on October 25, 2020. He was preceded in death by his wife Bebe, sister Marion and son Frank W. Harris III.
Frank was born in Elmhurst, NY to the late Frank and Mary Harris on March 22, 1925. He grew up in Vineland, NJ and graduated from Vineland High School. He then enlisted in the Army Air Corps and served as a Gunnery Officer and Bombardier on B17s for 2 1⁄2 years. Frank earned a B.S. in Mechanical Engineering from the University of Missouri in 1950. He worked for the DuPont Corp. for 20 years and then for Sherwin Williams for 15 years retiring as the Corporate Director of Engineering.
Frank and Bebe raised three sons Frank W. Harris III, Greg and Jeff prior to moving to Juno Beach in 1986. Frank became very active in local affairs. He was Chairman of Sea Oats POA, President of the Juno Beach Civic Associa- tion and was elected to the Juno Beach Town Council in 1992. Frank served as the Mayor of Juno Beach for 8 years from 1992-2000. During that time his goal was to create a sense of community for the Juno Beach residents. The newly built Town Center was its focal point on the end of Pelican Lake. Frank also served on the Board of Directors of the Loggerhead Marine Life Center for many years and was a volunteer at the Jupiter Medical Center. Frank was an amazing artist working in wood carving and painting. Until recently, he taught a watercolor class to the residents of Mangrove Bay. Frank is loved by so very many and will be dearly missed by all.
Frank is survived by Mary Imle, his loving companion since 2004, two sons Greg and Jeff, his daughter-in-law Leslie Harris and two grandsons Michael and Nathan.
A Memorial Service will be held at Good Shepherd Episcopal Church in Tequesta at 11:00AM on Thursday, November 5. Due to seating limitations, attendees are asked to RSVP. The service will also be live streamed via YouTube. To RSVP or request a link to the live stream of the service, please email (info@goodsheponline.org).
In lieu of flowers, donations can be made to the Good Shepherd Episcopal Church Outreach Program or the Lighthouse ArtCenter in Tequesta, FL.
Thomas "Tuck" Brubaker
1928-2020
Tuck left us quietly and peacefully on April 27, 2020 with his wife Judy at his side. Theirs was a 30 year love affair with Tuck telling her daily that she was his "O and O" – one and only.
Tuck was born in Rockland, Maine and grew up in Easton, PA. His studies at Lehigh University were interrupted twice to serve in the U. S. Army, first in WWII and then in the Korean War. His love of country was deep and passionate and he would always tear up at the sound of the Star Spangled Banner.
He started his career at General Motors and after six years his entrepreneurial spirit won out when he gave in to his interest in finance. He worked as a salesman in the securities business before launching his own firm, Mutual Service Corp. During that time, he earned his Master's Degree from Wayne State University then was one of the first in Michigan to attain the designation of Certified Financial Planner. His firm went on to become one of the country's leading financial planning firms which attracted the attention of a large California insurance company that ultimately acquired Tuck's company, joining it with a Florida firm. He moved to Florida to assist in the merger of the two firms and when that year was up it was an easy decision for Judy and him to settle there permanently.
He and Judy moved to Jonathan's Landing where Tuck could play his favorite sport, tennis, just about every day. They also loved boating, cruising the Caribbean and the eastern seaboard, along with spending time at their home in Anguilla, BVI. He said that he never expected to be a parent, but when he married Judy he became a stepfather to three sons, Eric, Paul and Karl and relished his role as Grandpa to Sonnet, Julia, William and Alexandra. Tuck served on the Board at Jonathans and was an usher and member of the finance committee at St. Mark's Episcopal Church.
All the condolence messages that have been received contain most of the same descriptive words: generous, kind, loving, witty, smart, devoted, natty dresser, intelligent and most of all, a true gentleman. Tuck led a spirited and fruitful life and was the embodiment of a true Christian. All of us here at the Lighthouse ArtCenter will miss him and our heartfelt condolences are sent to Judy and his family.
His family requests, that in lieu of flowers, donations be sent to St. Mark's Episcopal Church, 3395 Burns Road, Palm Beach Gardens, FL 33410 or the Lighthouse ArtCenter, 373 Tequesta Drive, Tequesta, FL 33469.
A celebration of his life is pending. When you have an opportunity and, in his name, do an unexpected act of kindness for someone when they least expect it. He would love that.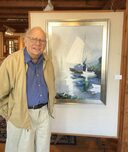 Charles C. Gruppe
1928-2019
​
​Let the memory of Charles be with us forever. Brother, Uncle, friend, artist extraordinaire.
Charles Camille Gruppe passed on 31 October 2019 in Vero Beach, Florida at VNA Hospice House. He was born on 1 July 1928 in New York, NY to Paulo and Camille Gruppe. He had one brother, Henry E. Gruppe (1929-2008).
Born into an arts family and raised by musician parents, he pursued the arts getting a Master's Degree in Fine Arts from Columbia University on a Fulbright scholarship. He won numerous awards for his paintings, which he sold in galleries throughout the United States. He lived in numerous places in his life but mostly in Florida, Connecticut, and Maine.
As well as his own painting, he was teacher and mentor to many. His painting classes and workshops led him to many places in the US as well as Europe. His charismatic personality brought together many painting friends.
He is survived by nieces and nephew, Carol Gruppe, Marc Gruppe, and Emilie Casey.
​
A private family service will take place in Connecticut but there is an online memorial site www.charles-gruppe.forevermissed.com where memories are shared.
Doris DuBois Thayer Hawthorn
1926 - 2018
​
Doris DuBois Thayer Hawthorn died in Hospice care July 19 after a brief illness. Doris (known as Dodie) was born to John and Bessie DuBois, July 29, 1926 in West Palm Beach and grew up at what is now DuBois Park in Jupiter. She graduated from Florida State University with a Bachelor's Degree in Home Economics in 1948, then made her home on the Loxahatchee River with her first husband, William F. Thayer, Jr. and their five children.To the world of art collectors and interior design, she was known as Dodie Thayer. In the early 1960s she began creating a line of bright green art pottery known as Lettuce Ware. It was sold exclusively in shops in Palm Beach and New York City and was collected by Queen Elizabeth I, Jackie Kennedy Onassis, Barbara Sinatra, Brooke Astor, C.Z.Guest, Bunny Melon, Tory Burch and many others. She was one of the seven founding members of the Lighthouse ArtCenter. An avid fisherwoman, she was a member of the International Women's Fishing Association for many years. It was a rare weekend that she and her second husband, James Hawthorn, weren't out fishing for sailfish. She was predeceased by her parents and her sisters, Susan Kindt (Charles) and Louise DuBois and her brother, Harry DuBois; her husbands, William F.Thayer, Jr. and James Hawthorn and her daughter, Hannah Thayer (John Miller). She is survived by her children; Lisa Jefferson (Mark), Laura Thayer (Jackie Slone), Mary Ferrell (Daniel) and Bill Thayer (Teresa). Eight grandchildren: Marisa Jefferson and Peter Jefferson, Dita Ferrell Baker (Adam), Daylen Ferrell Sutton (Wes), Jennifer Thayer Slack (Matt), Billy Thayer (Kayla), Ben Thayer and Jill Thayer. Three great grandchildren; Lillian Slack, Eleanor Slack and Emerie Rose Sutton. She will also be greatly missed by her cousin and close friend, Ruth Nelms.
A gathering of family and friends will be held at Taylor and Modeen Funeral Home in Jupiter Saturday, August 4, 2018 from 3-5 pm. A private family service will be held at a later date. In lieu of flowers, donations may be made to the Lighthouse ArtCenter. Make a donation >

Barbara Jean Kirsch
1934 – 2018
It is with deep sadness that we announce the passing of Barbara Kirsch. Barbara was such a big part of the Lighthouse ArtCenter and her absence will be deeply felt. An active member since 1996, Barbara served on the Board of Directors, chaired many events, served on committees and participated as an enthusiastic student of art.
Barbara was known for her indomitable spirit and will be remembered as a devoted wife, supportive mother, exuberant grandmother and vibrant friend. She was an art enthusiast and collector and an avid golfer. She loved dogs, enjoyed travel and was always open to adventure.
Her philanthropic service extended to numerous organizations including the Christ Child Society of Northern Michigan, the Jupiter Medical Center Foundation and the Lighthouse ArtCenter. She devoted much of her time and energy to the ArtCenter, for which we are so grateful. She brought the event D'Art for Art to the ArtCenter, which is now our signature fundraising event. She chaired the first D'Art in 2007 and again for the 10th anniversary. She was recognized and honored at the D'Art for Art event this past January for her dedication and many contributions to the ArtCenter.
"Her sunny personality and enthusiasm was always a bright spot in the day, and we will miss her greatly," said Nancy Politsch, executive director of Lighthouse ArtCenter.
The family requests that in lieu of flowers, memorial donations may be given to the Lighthouse ArtCenter Gallery & School of Art. Make a donation >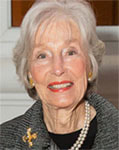 Cornelia T. Bailey
1930 - 2017
​Cornelia T. Bailey was a generous member and supporter of the Lighthouse ArtCenter since 1997. Her contributions helped to nurture arts and cultural programming to over 20,000 guests annually in and around our cultural heartbeat  in northern Palm Beach County.
Mrs. Bailey's passion for the arts extended to many organizations including the Maltz Jupiter Theatre, the Kravis Center for the Performing Arts, Norton Museum of Art, and Palm Beach Opera.  Her lifetime commitment to philanthropy extended to health care organizations from Florida to New York.
"Philanthropic families create significant legacies that benefit generations, we celebrate the opportunities Cornelia T. Bailey provided the Lighthouse ArtCenter, and we will carry on our work in her honor," said Nancy Politsch, Executive Director.
Alex Morton III
1941 – 2014
It is with deep sadness that we announce the sudden passing of our friend, fellow artist and Lighthouse ArtCenter Board Member, Alex Morton III. Alex was a wonderful man, a talented artist and was deeply respected by all who knew him. He will be greatly missed. Our thoughts are with his family at this sad time.
"Alex was dedicated to his family and friends"
Alexander Morton, III was born on August 12, 1941 in Camden, New Jersey. His parents were Alexander and Catherine (nee Robinson) Morton, Jr. and they were of Scottish descent. Alex died suddenly on Sunday, June 29, 2014. He was 73 years of age.
Alex was resident of Florida and a former resident of Birmingham, MI. He graduated in 1959 from Haddonfield Memorial High School in Haddonfield, NJ. In high school, he was senior class president and active in student government and sports. He graduated in 1963 from Michigan State University with his degree in Communications. He was proud to be the first in his family to attend and graduate from college. Alex was a veteran of the United States Air Force and served during the Vietnam War. He earned the rank of Sergeant and served overseas in Phu Cat, Vietnam. He was a retired Vice President and longtime advertising executive for D'Arcy, Masius, Benton & Bowles Advertising Agency. He was a former marketing executive for the P.G.A. Senior Tour. He was a coach and active with his children's sporting activities. He was an accomplished watercolorist and enjoyed golf and fishing. He was a member of Bloomfield Hills Country Club, member and former board member of Jupiter Hills Golf Club and board member of Lighthouse ArtCenter, Tequesta, FL.
Alex was the beloved husband of Valerie A. (nee Lewis) Morton and they were married for 48 years. Dear father of Alex Morton (Sandra), Todd Morton (Monica) and Casey Morton (Kimberly). Loving "Grandy" of Gabrielle, Alex IV, McLean, Brooke and Carter. Brother of Patricia Jones (David). Uncle of Renee Fahey (Rob) and Cathy Hopkins.