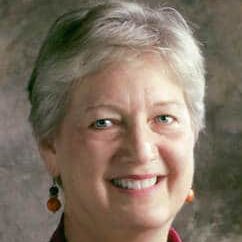 As a toddler, Cindy Bartosek was exposed to the two mediums that would inform her own artistic endeavors: textiles and photography. Her family was filled with women, and a few men, who created with fiber. Being surrounded by these quilts, doilies and embroidered linens instilled a lasting appreciation for the beauty of utilitarian items. In the family darkroom she was mesmerized by the magic of making images.
Dreaming of being a teacher from the age of four, Cindy began teaching 4 H sewing classes as a teenager. After earning a degree in Home Economics Education from Florida State University she worked as an Extension Home Economics Instructor, developing and teaching community-based classes for children and adults. Relocation to North Carolina led to a 30-year career in Public Health. Retirement rekindled her love for making and has allowed her to learn from nationally and internationally recognized fiber artists. While Cindy particularly enjoys weaving, bookmaking and botanical printing, she is returning to her roots, exploring mediums and techniques that merge photography and fiber art. She is particularly intrigued by processes that employ both science and serendipity.
Cindy's photographs and fiber work have been shown in juried and invitational exhibitions and group shows, receiving numerous awards. In 2017 and 2020 she curated the Contemporary Fiber in Florida Exhibitions for Florida CraftArt in St. Petersburg. A founding member of the South Florida Fiber Guild, she also belongs to the Surface Design Association and the South Florida Surface Design Association . She continues to teach workshops for guilds and in other art venues around the state.