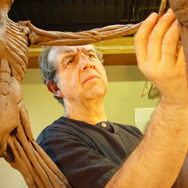 Eduardo Gomez is a working figurative sculptor. He was born in Colombia and moved to the USA as a young man. Eduardo graduated with a BA in Economics from the University of Wisconsin, Milwaukee, where he also earned an MSW. Later in life, he returned to art school at the University of Arkansas, Little Rock where he completed his post baccalaureate studies in sculpture. Eduardo also studied independently under various nationally recognized sculptors such as David Klass, Phillipe Faraut, and Elden Teft.
Eduardo has exhibited at various museums such as the Historic Arkansas Museum (Little Rock, AR), the St. Lucie County Historical Museum (Fort Pierce, FL), the AE Backus Museum & Gallery (Fort Pierce, FL), and the Elliot Museum (Stuart, FL). He has also exhibited in national juried sculpture shows such as the Loveland Sculpture Invitational in Colorado. Two of his public sculptures are at the Order of Divine Providence in Usaquen, Colombia. Locally, his sculptures "Above and Beyond" and "Unconditional" are installed at the entrance of the Distinguished Service Memorial Park in Stuart, Florida. A third, "38th Parallel," at the Veterans Memorial Park in Port Saint Lucie, Florida. His sculptures range in size from small to monumental and he accepts public and private commissions.
Eduardo's work is on regular display at various Florida Galleries. Eduardo's studio is located in Jensen Beach where he works in various sculpture media and offers private instruction.
---
Dedication of "38th Parallel" Memorial sculpture by Eduardo Gomez Rojas

---
First Prize Award from the Vero Beach Museum of Art for the marble sculpture "Mountain of Grief"