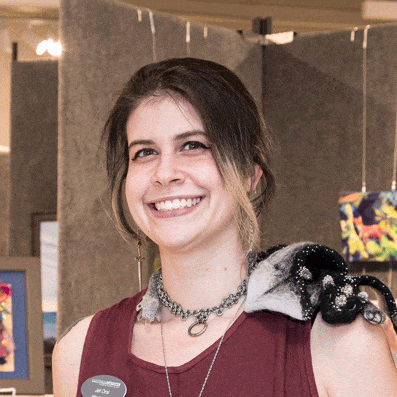 Curatorial Assistant
Jet Sabbagh was born in Omaha, Nebraska but she did not stay there for long. Her family spend much of her early life moving from place to place all across the country before settling into a suburb of Boston Massachusetts. During each move Jet came to lean a little more on the act of creating as a source of comfort and consistency in her life. These feelings lead her to pursue art all the way through her Master's degree in Art & Education from Maryland Institute College of Art (MICA). After graduation Jet became a free-lance artist working on commission and showing her creations in local galleries and store fronts as she moved across the country once again from Baltimore to Massachusetts and, finally, coming to rest in Florida.
With an understanding of how healing and comforting the act of creation can be Jet began her search to find a place where she could help spread beauty and art to her community. It is unsurprising that in August of 2020 she found herself at Lighthouse ArtCenter working both as a full time staff member in the Curatorial department and as part time faculty teaching adult and youth classes.
Jet's current body of work focusses on sculptural mixed media textile pieced.