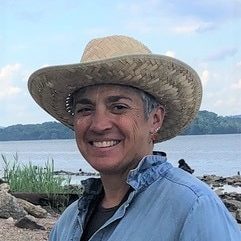 Laura Martinez-Bianco is a landscape painter who lives in Marlboro, NY. She states, "On location, I work in pastels capturing the landscape; the view, the air, and space around me. I focus on capturing a specific time of day."
Growing up in New York's Hudson Valley, Laura has gained a great appreciation for the beauty of the landscape while preserving and recording it through her art. Laura attended The State University of New York at New Paltz where she studied painting and completed two degrees in Art Education.
Her passion for art and nature has been incorporated into her career as an Art Educator over the past three decades. As well as teaching in public schools, Laura has taught and hosted painting workshops in Italy, Massachusetts, and New York. Her work is in private collections throughout the US and Europe.
While the outdoors is her studio when working with pastels,  she maintains a work and gallery space at her home, where encaustics are her primary medium. Traveling and painting has given her the opportunity to record the landscape of home and abroad as well receiving numerous awards and recognition from her peers and the Plein air community
---