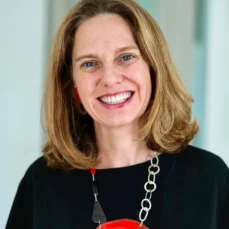 Michel McNabb is a metal smith from Cincinnati, Ohio who now resides in Wellington, Florida. She combines her skills of carving wax, metal smithing, and enameling to create unique jewelry and vessels. Michel earned her Bachelor of Fine Arts degree from Denison University and moved to Spain after graduating. This is where she began creating jewelry, learning from local craftsmen and artisans while implementing skills from her fine arts background in addition to traditional metal smithing techniques. She has been creating jewelry using the lost wax casting method since the year 2000.
"Jewelry has always been an obsession for me. As a young girl, I could sit for hours on my mother's bed going through her jewelry box. I began making jewelry at eight years old of multicolored telephone wires and bubble gum wrappers. As a college student, I specialized in intaglio etching printmaking, where metal is etched using a fine stylus. My jewelry is made in a similar way by carving into the wax with very fine tools in order to create detail."
In 2016 she began working with vitreous enamel in which colored glass is fused onto metal. "Enameling has opened a new world for me. I am fascinated by the color and beauty of the glass on metal. My most recent work includes raising vessels, which is forming a bowl or a cup from a flat sheet of metal. I love creating objects that are not only adornment for the body.