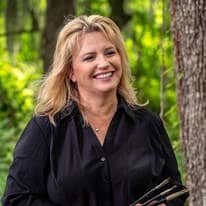 Much like a pink spoonbill soaring through the dusky evening twilight, Michelle brings with her a splash of vibrancy, a flutter of unique perspective, and the bewitching song of nature in its truest form.Born and raised in Maryland, Michelle knew from a young age that she was meant to fly the vast skies of the art world with a palette and paints tucked beneath her eager wings. Passionately working as an artist and business owner for the past 25 years, Michelle has been living out her dreams in Sarasota, Florida. Michelle currently participates in invitational paint outs and is widely collected throughout the United States. She is also represented in 3 thriving galleries, as well.
Her success in the art world has come from her winning combination of creative spark and imaginative nature, along with her meticulous attention to detail. Often commissioned for custom paintings as well as murals, Michelle's passion for wildlife and its ecosystems brought her to embrace the natural world through painting from life. From serene, swampy marshes draped in ancient Spanish moss to tiny, rickety oyster towns bursting with rainbow buoys and boats, there is always a sight to behold. Michelle is passionate about the morning glow of a waking sun illuminating an observant egret, the conversation between a fisherman and a hungry pelican testing its luck, or the simplistic beauty of a half-peeled clementine, bursting with flavor and juicy color.
Michelle believes that evoking a feeling of light, space, and passion is the key to any successful contemporary painting.
Michelle gives attention to composition, design, and value and gives credence to a "go with the flow" attitude as well, and lets the painting direct her, instead of imposing her will on it throughout the entire process. Plein air has set flight to many paint outs, including Easton, Forgotten Coast, Lighthouse Art Center, and many more. Achieving many awards throughout this journey, her favorite ones are the artist choice awards. The real victory, however, has come with her love of teaching. There were so many who encouraged her, Michelle finds that paying it forward is the best way to fulfill the soul.Taking a note from the birds she so loves to paint, Michelle approaches painting like flight, letting the swells and surges of the wind carry her and her brushes through those brilliant beautiful skies.