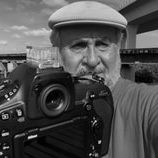 Richard Terpolilli was raised in the Finger Lakes Region in upstate New York. Following military service in the 60's, he attended the University of Rhode Island College of Pharmacy. Richard's career was in hospital pharmacy administration, clinical education, and on faculty at Brown University Medical School and the University of Rhode Island College of Pharmacy. During his career years, he used a 35mm Minolta SLR for shooting family outings and travel excursions.
Richard never took photography seriously, until one day the Public Broadcasting Station (PBS) did a special on Ansel Adams. Self-taught, Richard studied the works of Joel Tjintjelaar, Sharon Tenembaum, Julia Anna Gospodarou, Keith Aggett, and Michael Kenna. He found his niche, 'Fine Art Black and White Long Exposure.'
In 2014, Richard's "baptism" started with a workshop in New York City with BW Vision Explorers. He followed up with a lengthy mentorship under Joel Tjintjelaar, one of the world's foremost fine art photographers and innovators. His specialty is fine art photography in black and white, long exposure architecture, seascapes, still life, and occasional color fine art photography.
Richard finds that fine art photography communicates an emotional experience – particularly long exposure. Long exposure moves away from the natural world as you see it. Water and sky appear unnatural. Light and shadows become exaggerated, and black and white becomes more aesthetic. The camera is only a means of expression. Richard has received numerous national and international awards. Additionally, he mentors, teaches, does workshops, and has written numerous articles that have been published.
---
Imagine and Create – Through the Lens Supply List
How to Develop Your Images supply List