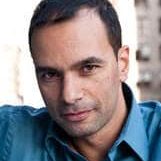 Serge is an American artist, Belgian born, who lives and works between New York and Palm Beach, Florida.
Serge Strosberg studied Graphic Design and Illustration in Paris at Academie Julian and Morphology at Ecole Nationale des Beaux-Arts. In 2010, Strosberg was an artist in residence in China and received a grant from The Shanghai Himalayas Art Museum to paint a series of Chinese countrymen to be exhibited in a one man show. He was the recipient of the Jan Cockx Prize given by Flor Bex, Director of Mukha (Museum of Contemporary Art of Antwerp) and has exhibited with Lucian Freud, Philip Pearlstein and Soutine at The Felix Nussbaum Museum (Germany) and The Musee de Pontoise (France) in 2008.
Strosberg has participated in more than 60 solo and group exhibitions including The White Room (Bridgehampton), Lichtundfire (New York), The Orangeries of the French Senate (France), Espace Saint Honore (France), Studio 26 Gallery (New York), Elaine Baker Gallery (Boca Raton), The Lionheart Gallery (New York), DFN gallery (New York), Alexandre Gertsman Contemporary (New York), The Jewish Museum (Amsterdam), The Ann Norton Sculpture Gardens (Palm Beach, Florida) and The Lighthouse Center for the Arts (Jupiter, Florida). His work was recently featured in the NY Post during Art Basel Miami 2018.
His work is in the permanent collections of The Jewish Museum of Belgium, The Shanghai Himalayas Art Museum, The Musee of Pontoise, The Felix Nussbaum Museum, Mercersburg Academy and has been by acquired by more than 150 private collectors, institutions and corporations around the world, including : RXR realty, the Starrett Lehigh building, the Southern District court of Florida, Executive chef Marcus Samuelsson, Tereza Wagner (Unesco cultural director), Jean-Francois Cazeau (Galerie Cazeau-Beraudiere), Nicolas et Sophie Lefevre, the family of Jacqueline Dupre, the Margolis family (NY), etc.