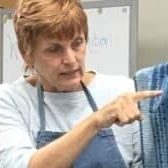 Formerly an interior designer, a construction project manager, and then fine art gallery owner and director, Suzanne Connors has always loved art and textiles and has maintained an active fiber art studio since 2008. Her academic background in architecture and design lays the groundwork for her practice using traditional shibori techniques. Creating a body of detailed design, establishing order, combining simple techniques and textures, and using design repetition are the foundations of her work. Suzanne enjoys sharing her passion for texture, color, and pattern through her artwork and while teaching workshops.
Suzanne's teaching experience includes studio and professional practices at institutions throughout the U.S. These include The Arrowmont School of Art & Craft, (Gatlinburg, TN,) River Ridge Retreat Center, (Menominee, WI,) Carborro Art Lighthouse ArtCenter, (Carborro, NC,) Morakami Japanese Museum, (Palm Beach County, FL,) Foosaner Museum, (Melbourne, FL,) Lighthouse ArtCenter, (Tequesta, FL) Olives Porch Folk School Experience (Murphy NC) and the Aya Fiber Studio; her own studio in Stuart Florida where she hosts national and international artists who give workshops to over 500 students from all over the country each year.
Suzanne is the founder and past President of the Martin Artisans Guild, and is also president of Florida SPIN (silk painters international) and South Florida Regional representative for Surface Design Association.