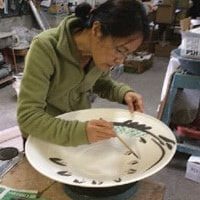 Ying Zhou is a ceramic artist who has exhibited at Clay studio in Philadelphia, Pewabic Art Gallery in Michigan, and the Toronto Art Exhibition.
Her residencies include the Clay Studio in Philadelphia, Pewabic Pottery in Detroit, and Red Logger Clay Art Center in Mantegna.
She graduated in 1983 from Jingdezhen Ceramics Institute, China. Ying also enjoys Chinese painting and brush making.