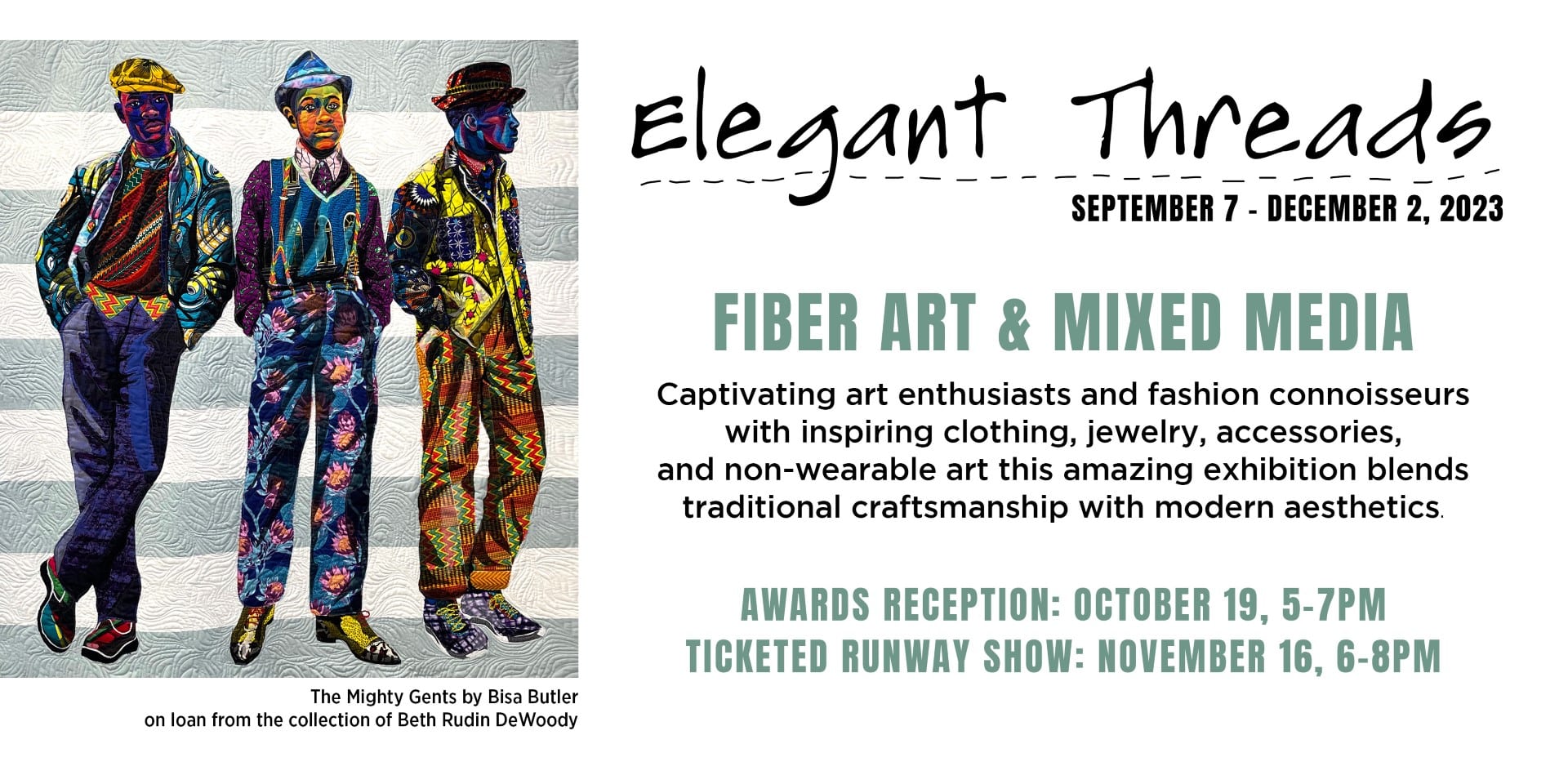 Exhibition Dates: September 7 - December 2, 2023
Awards Reception and Guest lecture:  October 19, 2023 5 - 7pm
Ticketed Runway Show:  November 16, 2023, 6-8pm

Showcasing a collection of mesmerizing creations, Elegant Threads is set to captivate art enthusiasts and fashion connoisseurs alike with awe-inspiring clothing, jewelry, accessories, and non-wearable works that blend traditional craftsmanship with modern aesthetics.  Visitors will be immersed in a world where textures, colors, and patterns evoke a range of emotions, from joy and serenity to introspection and passion.
Juried artwork from a nationwide call to artists working in both wearable and non-wearable fiber arts and jewelry compete for $4,000 in awards while being showcased along with masterpieces by internationally renowned artists such as Bisa Butler, El Anatsui, and Guilia Andreani, which are on loan from the private collections of Beth Rudin DeWoody and Douglas B. Andrews.
Lighthouse ArtCenter is voted one of the top three galleries in Palm Beach County, Florida.  With over 2,500 square feet of freshly renovated, well–lighted exhibition space, and almost 60 years in business Lighthouse ArtCenter is the cultural heart of a vibrant community.
Elegant Threads Runway Show Program
Jewelry and Accessories:
1st ($500) Ruth Hartman – Silk paper purse
2nd ($300)  Glenda Skarie – Waterfall
3rd ($200)  Lisa Jefferson – Jellyfish earrings
Non wearable:
1st ($500) Leslie Pontz – Olivia
2nd ($300) Angela Scozzari – Church Windows
3rd ($200) Nancy Billings – Hanging by a Thread
Wearable:
1st ($500) Dana Chapman – Stained Glass Vision
2nd ($300) Charity Van der Meer – Misty Morning
3rd ($200) Lindsay Hagar – Visions of Gold
People's Choice:
$200 Marty Ornish – Shy Lisbeth Breaks out of her Shell
Best in Show:
$800 Doshi (Nancy Jo Smith) – I Asked the Leaf if it was Afraid of the Winter