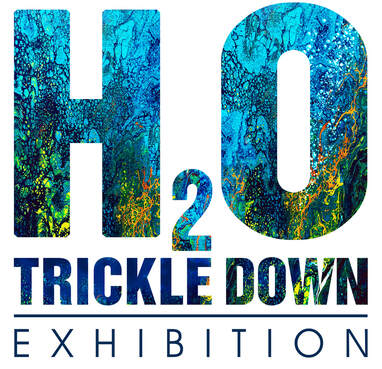 Florida's best photographers and filmmakers of Florida's wild and scenic places, from the Floridian aquifer to the ocean's deep, exhibit together at the Lighthouse ArtCenter, January 16-February 12, 2020.
​Tom Fitz, six-time Emmy award-winner, has filmed all over the world for the BBC, PBS, National Geographic, and the Smithsonian.  He is responsible for portions of the beloved Blue Planet series with Sir David Attenborough.  During a dive into Ginnie Springs in North Florida, Mr. Fitz explored deep underwater caves and caverns, where he filmed some of the Floridan aquifer, the little-understood freshwater source that serves over 20,000,000 people in the southeastern United States.  His resulting documentary has been seen around the world, and it is running in the gallery along, with some of his other meaningful films.  Mr. Fitz established Schoolyard Films, a series of environmental documentaries that are freely shared with educators and students worldwide.
Clyde Butcher, a legendary photographer and national treasure.
​
The scale and extraordinary clarity of his work sets it apart as exceptional. In the tradition of the nineteenth-century Hudson River School painters, Clyde composes his works at pristine and untarnished locations across the United States, creating arresting compositions that distinctly mark him as the foremost landscape photographer in America today.
Clyde has been called the next Ansel Adams by Popular Photography magazine, awarded as a humanitarian for acting for the betterment of his community, and recognized as a conservationist for bringing issues to the forefront of public consciousness through his art. His photography transcends political boundaries, challenging us to work together to protect natural places across the globe.
Carlton Ward, Jr., a conservation photographer and National Geographic Explorer, with a passion for nature that was born from the Florida landscape, is showing his stunning stills and films.  Mr. Ward's mission is to inspire appreciation and protection of Florida's original nature and culture – the endangered wilderness that is often hidden in plain sight, but very much needs our attention to be saved.  He is the recipient of the 2019 Photojournalism Story Award from the Natural History Museum in London, for his film The Path of the Panther.
​Edie Widder, PhD, received the prestigious MacArthur Fellowship for her work with Ocean Research and Conservation Association, where she serves as the Sr. Scientist and CEO.  Dr. Widder was invited to participate in the esteemed TED Mission Blue Voyage to the Galapagos Islands, along with other leading thinkers and advocates of ocean conservation, including Sylvia Earle, Jean-Michel Cousteau, and Mike DeGruy, to name a few.  Dr. Widder's TED presentation was recorded from the deck of the ship Endeavor.  She is responsible for the first film footage of live giant squid in their natural habitat, the first one off the coast of Japan, and most recently in the Gulf of Mexico.  Her unique photography and films use technology she developed specifically for deep water marine life.  Her work enables us the opportunity to see the astonishing range of previously undiscovered creatures who thrive in the darkest underwater zones once deemed unable to support life.
​Mac Stone, a native of Gainesville, grew up on the swamp, wandered the hammocks, and explored the springs where his love blossomed for all creatures that swoop and swirl, slither and slide. Mr. Stone's photos invite the viewers to look up through branches heavy with Spanish moss, where they can focus on a bird delicately preening in the late afternoon sun. A patient conservationist, Mac Stone has spent untold hours camouflaged in blinds, whether a hundred feet in the air or standing up to his chin in the swamp, quietly waiting for the perfect shot. His perseverance pays off.
These two national award-winning environmental photographers, Mac Stone and Carlton Ward, Jr., recently finished a film which is running in the gallery titled Ghost Orchid, in which they documented previously unknown pollinators of a rare botanical treasure, and their exciting discovery that rocked the world of Orchidaceae.
​Ruth Petzold followed her passion for nature and photography to exotic and remote locations of the world, both above and below the ocean's surface. Ms. Petzold is an avid supporter and spokesperson for the Wild Dolphin Project. Her photos of marine life have garnered awards from the Caribbean to the Red Sea.
As an added bonus to this timely exhibition, the original artwork of
Charles Walker, one of Florida's surviving Highwaymen painters, is on display in the pop-up gallery. Mr. Walker brings rich memories of abundant wildlife to mind with his brush and leads the way for us to understand the meaning of shifting baselines. These highly collectible works tell of a time of plenty. If we are to set a course to inspire environmental stewardship then we must ensure today's children see these memories of plenty, so they can imagine how their choices can affect the future. A portion of the proceeds from the sale of Mr. Walker's pieces benefit the Hobe Sound Nature Center.
Rene Gibson - Three things have inspired the career of Rene Gibson: creating art from nature, bringing a concept to life, piecing together many small items to create something large. Her marlin incorporates all three in one perfect piece. After completing cancer treatment in 2018, the direction of Rene Gibson's artwork changed. She focused her attention on this magnificent piece, a complete departure from previous works. The marlin is ten feet long and weighs 41 pounds. There are approximately 100,000 genuine Swarovski crystals in 36 colors, 13 of which are special coatings. It took 535 hours and over two years to complete.